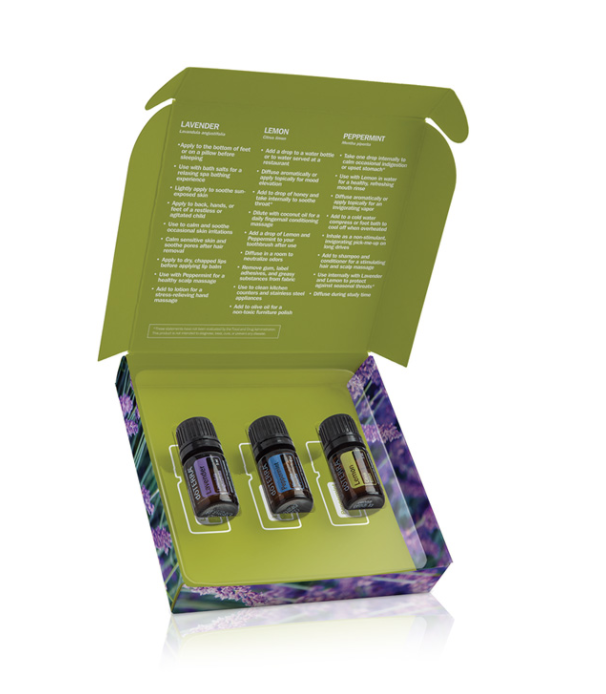 Essential Oil Intro Kit
The Introductory Kit is a great starting point for those new to essential oils and includes 5ml bottles of doTERRA's Lavender, Lemon and Peppermint.
The box includes suggested uses for three of the most commonly used oils, and this means it is also a perfect gift for someone who's new to essential oils.
Lavender is often considered a must-have oil to keep on hand at all times due to its versatile uses, including calming and relaxing properties that promote peaceful sleep and ease feelings of tension.
The cleansing, purifying, and invigorating properties of Lemon make it one of the most versatile oils, not to mention the top-selling essential oil
The high menthol content of the doTERRA Peppermint essential oil sets it apart from others when it comes to quality—making it one of the best-selling favorites.
Ordering Oils
There's an oil for that!
Surfside Shop showcases just a few of our favourite oils, but there are so many more. Shop the entire range of doTERRA essential oils and natural healthcare solutions at: https://www.mydoterra.com/loukelly or contact me to get 25% off.
LEARN MORE ABOUT ESSENTIAL OILS
To educate and empower you and your family with natural healthcare solutions, you're invited to attend one of my free workshops in Mona Vale, Sydney or to book a Skype or Facetime 1 on 1 session email lou@surfsideyoga.com.au
WHY doTERRA ESSENTIAL OILS?
doTERRA grows and harvest essential oils where they grow naturally so they are the most potent
They are the largest essential oils company in the world and offer the purest products available
No fillers, fragrances and free of pesticides
Rigorously tested in-house and by a third party and the only company to publish test results
Supports a greater cause - doTERRA supports farmers, creating co-operatives and building vocational centres, medical facilities, schools and installing running water so farmers can focus less on financial pressures and more on producing the best quality product
HOW TO PURCHASE doTERRA ESSENTIAL OILS
If you're ready to buy your oils already, go to http://mydoterra.com/loukelly and follow the instructions
HOW DO I GET 25% OFF ESSENTIAL OILS?
If you are looking to transform your cleaning cupboards, medicine cabinets and skincare with natural solutions and are likely to purchase more than 3 oils in the next year, it makes sense to take advantage of 25% off retail price.
A doTERRA membership costs just $35 for 12 months, or if you purchase an Enrollment Kit the $35 membership fee is waived and you get the most popular oils at a huge discount.
The 'Home Essentials Kit' is the most popular kit and comes with the 10 most popular oils, in full-size bottles, plus a diffuser - and saves you over $200 on the retail cost of these oils. There are no minimum monthly orders, or selling required. Check out the Australia Kits.
HOW TO ENROL & RECEIVE 25% OFF
Click this link http://mydoterra.com/loukelly
Click Join and Save
Choose your country and language
Click 'Local'
Choose Wholesale (NOT Preferred Member)
Enter your personal information, including your Australian Business Number if you have one. If you don't have an ABN, just leave it blank.
At *Enroller ID*, enter my ID 4181406: (it should display my name, Louise Kelly)
Click verify
Set up a password
Click over to the next page
Select the kit you'd like to order OR select the $35 membership and add the products you would like to buy
Don't forget to add Fractionated Coconut Oil to your order for dilution
Click 'view totals'
Enter your Credit Card details and process your order.
HOW TO PURCHASE AT RETAIL PRICE
If you'd prefer to purchase at retail price, you can also purchase single oils by clicking https://www.mydoterra.com/loukelly and clicking 'shop'.
DELIVERIES
Essential oils are delivered directly to your door. If you enroll, you will receive a username and password to log into your account for future purchases.
JOIN OUR SURFSIDE ESSENTIAL OILS COMMUNITY
For free essential oils support and resources, join our Surfside Essential Oils Facebook group